Delhi, a city with  north Indian population made up of fun loving Punjabis, the robust Haryanvi's  the sober UPite's and the gentle Rajasthani's. There is also a touch of people from southern state of India who have settled here and made Delhi their home.
 A city not only of people with big hearts( Dilwallahs), but also of people with appetites just as big (no. actually bigger). Delhi is a food-lover delight, from local north -Indian food to some of the best of Mughlai & tandoors… you'll have it all here. The different areas of Delhi specializes in their own particular kind of cuisines with enough variety to tantalize the taste buds.
Delhi is one of the best places in India to enjoy delicious food, be it local, national or cuisines from other parts of the country. The eating scene reflects the capital's melting pot image with people from all over the country and the world setting up shop to woo palates of citizens and visitors alike.
Here's some spoons of food you must try in Delhi.
1) Parantha's at Paranthe wali gali– To start a health day most of the families in Delhi prepare paranthas. if you've not had parantha at parante wali gali, you can't say you love parantha.
2) Chole bhathure at Om Bhathure wala, Karol Bhagh – Hungry?? Well just have them with a glass of Lassi. you can thank me later!!
3) Sambhar, idli at Sarvana Bhawan, Cannaught place – We just don't have to say anything about this place. Grab you wallet and go. Enjoy this deliciso!!
4) Sweet Lassi at Bikaner wala– CRUSH!! CRUSH!! CRUSH!! If you haven't tried this yet, well you should.
(picture courtesy: http://www.bikanernerul-lp.com/images/products/sweet-lassi.jpg)
5) Tea at Cha Bar, Cannaught place– No other place in Delhi servers this wide variety of teas. They spoil you for choice. in the best way possible.
(picture courtesy: http://www.foodjournal.in/wp-content/uploads/2016/02/cha-bar-cannaught-place-delhi-1-600×450.jpg)
6) Raj Kachori at Haldiram– We all know how delicious this food chain serves us but  If you haven't tried their Raj Kachori yet, you haven't tried the best that the best they has to offer.
(picture courtesy: http://dcz5iex51fla0.cloudfront.net/wp-content/uploads/2015/09/Raj-Kachori.jpg?x67808)
7) Rolls at Khan Chacha,Khan market – Old is gold!! These are one of the famous and for Delhihites its a on the go food!!
8) Kebabs at Salim kebabs, Defense colony– If you wanna taste the best kebabs..well Delhi is the spot. A gift given dish by Mughals.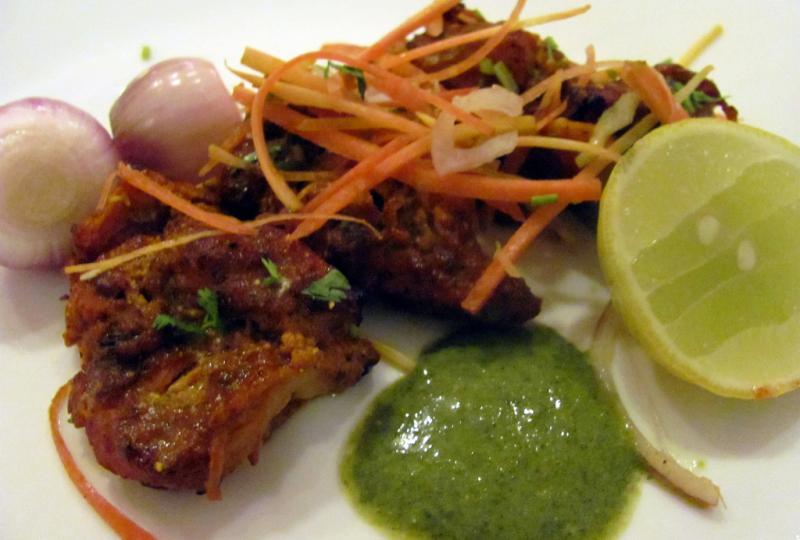 (picture courtesy: https://www.holidify.com/blog/wp-content/uploads/2015/06/5270621474_f05c8f35b5_b.jpg)
9) Momos at Kamla nagar– It is a famous dish from North India, but in Delhi, it is one of the famous street foods. You'll find stalls vendors outside every office building and famous streets.
(picture courtesy: https://i1.wp.com/files.hungryforever.com/wp-content/uploads/2015/05/ti_725_1417414979547c0943cf867.jpg?w=800&quality=80&strip=all)
Well the place is not just about this variety, but there is much more to be tasted.
So go and enjoy the streets of DELHI.